When we got the call from one of our rescue partners in Central Illinois about an 8 year old American Bulldog that needed a home, we took one look at his sweet face and knew we had to take him. He had lived with one owner his whole life but the owner's apartment complex changed the rules and would no longer allow Victor to live there. When Victor arrived at the shelter he was a ball of energy. He was jumping, wagging his tail and trying to give kisses to everyone he met. We were in the process of checking him in. He was fine one minute and then the next he fell down and seemed to struggle getting back up. This happened three or four times in a row. We immediately rushed him to our vet and so began our journey with Victor.
The vet couldn't immediately find anything wrong with Victor so he asked to keep him overnight to monitor him. He did blood work which came back normal. He took x-rays which showed some minor arthritis in his back. Nothing else was found so Victor returned the shelter where we were instructed to monitor his balance issues.
Once back at the shelter, Victor continued to have problems with his balance off and on. The vet recommended seeing a cardiologist for an echocardiogram. We had the test done and it came back normal. All was fine with his heart but why was this poor guy still having problems?
The vet then recommended that we see a neurologist. Victor had a neurological exam which again was completely normal. The neurologist recommended that we do further testing which included an MRI, spinal tap, abdominal ultrasound, and blood work. She did caution us that it was very likely all of these tests would be normal and we still wouldn't know why Victor was having episodes. Before any of this could be done, she wanted Victor to undergo a Holter Monitor Test. The test would be done over a 24 hour period. Victor would wear a heart monitor and the monitor would record any arrhythmias. Unfortunately, the test couldn't be done at the shelter so we had to find a foster home that would be able to watch him over the 24 hour period. One of our volunteers stepped up and the test was done. Once again, everything was normal.
At that point, we made a decision not to move forward with the neurologist's suggestions. Victor's imbalance seemed to be getting better and we didn't want to spend all that money and still not have any answers as to what was causing the episodes.
While all of this was going on, the volunteers started reporting that Victor was sluggish on walks and would occasionally drag one of his back feet. He also had trouble getting up and down and seemed to experience stiffness after laying down for a long period. We had more x-rays taken and the vet diagnosed Victor with spondylosis in his lower back. He felt that this could potentially be causing the problems. Could it be that we were finally finding some answers?
We put Victor on joint supplements and pain medication and scheduled a visit with a chiropractor. On his first visit, he had lots of adjustments and it was recommended that we start walking him with a harness instead of a collar. The harness takes a lot of pressure off his neck which could be causing some of his back pain. Since then, Victor has been going for weekly chiropractic visits. The chiropractor is pleased with his progress. His range of motion is better and he is no longer having issues with balance.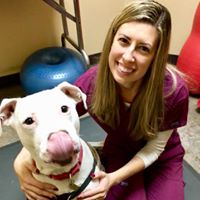 One of our volunteers, Katie, owner of Physio Pet Massage, also does weekly massages with Victor and our animal care team does rehab exercises with him daily.
Through everything that he has endured, Victor has always remained a sweet, happy-go-lucky dog. He loves hanging out with the volunteers and getting play time out in the yard. He's definitely a volunteer favorite. Now all he needs is a home of his own. Our kennel is old and in the winter it can be cold and drafty. We think Victor would thrive in a warm, cozy house with a loving family. Now all we need is someone to take a chance on this boy and give him the life that he deserves. Could that family be yours?
If you are interested in Victor, please contact our This email address is being protected from spambots. You need JavaScript enabled to view it.!