In an effort to save more needy cats and dogs in Chicagoland and beyond, we have created an emergency medical fund to ensure cats and dogs brought to our shelter will be able to receive life-saving veterinary care without hesitation. The fund, called the Mowgli Fund and named for an abandoned cat with medical issues who was saved by WSHS' efforts, was started on #GivingTuesday, November 28th, 2017, with grassroots donations and an endowment from a longtime donor.
Emergency medical care for a single animal can cost thousands of dollars and these expenditures account for over 40% percent of our overall budget. Most animal welfare organizations do not have money in their budgets to help animals with severe health issues, leading to those animals being turned away or in some cases, humanely euthanized. Since 1972, we have made it our mission to help those animals most in need, and we regularly take on cases that require extensive medical treatment. However, on a yearly basis, the financial need for care regularly exceeds the organization's means. The Mowgli Fund allows WSHS to continue our mission by providing funding for, among other necessities:
Emergency surgeries and ER visits for at-risk animals
Extensive testing and specialist consultations
Ongoing medical care and treatments, including physical therapy, medicines and supplements
WSHS Executive Director Carolyn Mossberger believes the fund is crucial in furthering the mission of the organization. "We are asked on an almost weekly basis to take an animal that has a treatable medical need. The Mowgli Fund allows us to continue to provide help to the most at-risk homeless animals in our community, giving countless numbers of cats and dogs the second chance they deserve."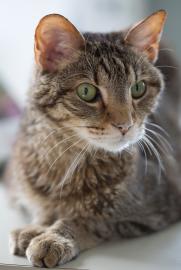 Mowgli, who the fund is named after, was abandoned by his owners when they moved out of their apartment. Fortunately, a kind realtor happened to stumble upon him when she went to the apartment to assess for future listing. She made some calls to animal welfare organizations to see about admitting Mowgli to their facilities, but was consistently turned down as none had the means to take on an 11 year old, sickly looking cat. That was until she reached us here at WSHS, and once we heard of the direness of Mowgli's situation, we happily welcomed him through our doors.
Mowgli was in rough shape and needed immediate medical care. The main issue he had was a severe case of inflammatory bowel disease (IBD), a disorder that affects the intestines. After many rounds of expensive medical testing and treatment, Mowgli was able to finally go to his forever home, a wonderful volunteer who gave Mowgli a loving place to spend the rest of his days.
Cats and dogs like Mowgli are constantly turned away by animal welfare organizations who unfortunately do not have the resources to invest into these amazing animals. We want to be the exception to the rule and with our emergency fund, we will be able to honor the memory of Mowgli by continuing to help future animals recover from their ailments and find their own forever homes.