As much as people try, sometimes the resources just aren't there to care for animals the way they should be cared for. That was the case with Helen's original owner. She found Helen as a puppy and loved her dearly, but financially, adopting an animal at that time in her life wasn't the most prudent thing to do. Puppies are cute though, and sound judgement is sometimes suspended because of said cuteness.
One day, little 4 month old Helen was bouncing around the house per usual and took a tumble off the couch. She instantly shrieked in pain and her guardian rushed over to see what was the matter. She knew something terrible was wrong when Helen couldn't put any weight on her front leg. She immediately took Helen to a local vet who, after some initial testing and x-rays, gave her the bad news - Helen had broken her leg.
To fix the leg would cost a fortune and Helen's owner, no matter how much she loved her, just didn't have the money for the surgery. She informed the vet that in her opinion the most humane thing to do would be to euthanize Helen and spare her the pain she was in. The vet agreed at that moment, and said that's what they would do. However, the vet knew of another option that they kept to themselves. There was no way that little Helen was going to be euthanized for a completely treatable broken leg. That's when the vet called us.
We were saddened to hear about poor Helen's plight and gladly agreed to take on her care. We shuttled her to an orthopedic specialist who did an amazing job repairing Helen's broken bones. From there, Helen went into foster to heal and recover with Ann W.
Ann is one of our best fosters, and she also has other dogs of her own that help socialize and provide companionship to the foster dogs we give her. One of her dogs, Greta, was adopted from us a few years prior. She was also an amazing dog but suffered from severe epileptic seizures. Not many people would be able to care for a dog like Greta, but Ann had no problem at all. Unfortunately, during Helen's foster stay with Ann, Greta passed away and Ann was heartbroken. And who was there to comfort her? You guessed it - Helen.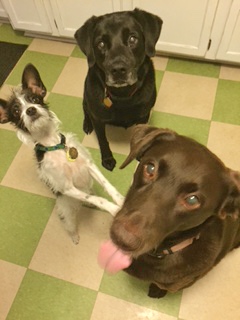 "When Helen came to my house in June as a foster, I really meant it to be a foster arrangement and then have her go to her forever home," explains Ann. "Little did I know that my home was meant to be her forever one."
Shortly after Greta's passing, Ann made it official and adopted Helen. Helen now spends her days playing with her favorite toys, going for long walks and of course, giving lots love and cuddles. "She fits right into our hearts and she doesn't seem to realize she's much smaller than her new brother and sister, Fred and Alice," says Ann. "She is a very sweet girl and we all love her so much!"
You see, our rescues come in all shapes and sizes, and from many different circumstances. No two are alike. Sometimes it's stray cat who's suffered an accidental injury. Sometimes it's a homeless dog whose genetics have betrayed them. Sometimes it's a cat or dog who has nowhere else to go but to us.
We want our doors to always remain open for these needy cats and dogs. That's why on #GivingTuesday, November 28th, 2017, we are raising money for the Mowgli fund, our newly created veterinary emergency fund that will allow us to continue to give life-saving care to dogs like Cody and Helen, and cats like Mowgli and Preston.
Please, on November 28th, give what you can to the Mowgli fund and help us keep making a difference in the lives of cats and dogs in Chicagoland and beyond.