Lucky Penny - Adopted: May 2016
Find a Penny Pick it Up ...
All day long you'll have good luck! So the saying goes, but for Penny, a 6 year old overweight Beagle who found herself back at the shelter for the fifth time in as many years, we all wondered when that lucky day would come.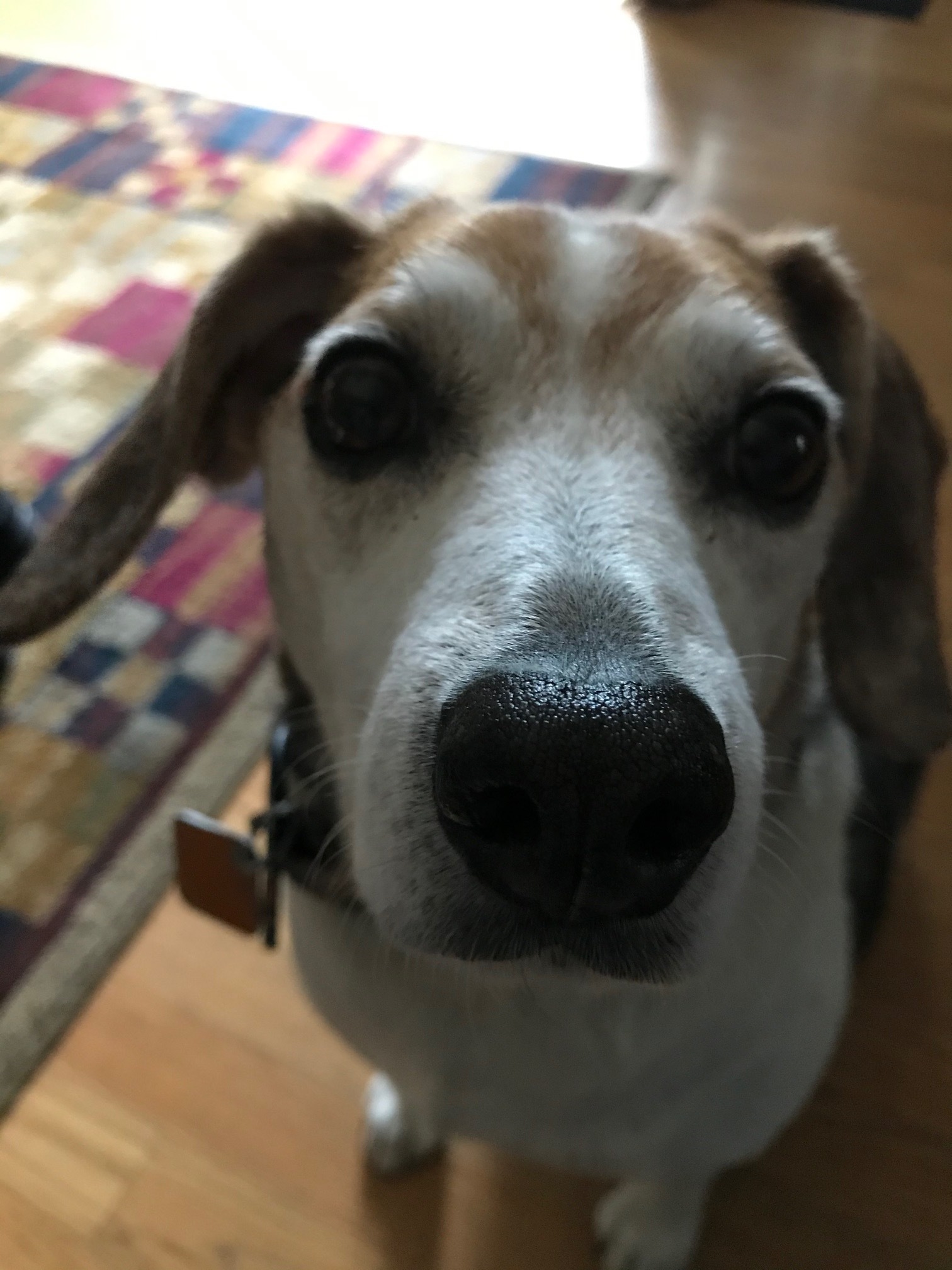 Originally Penny came to WSHS from a Central Illinois Animal Control facility that was out of space. WSHS rescues many animals from shelters in rural areas that don't always have a large pool of potential adopters. This pretty and petite beagle (a very popular breed) would be an easy adoption right? That turned out to not be the case. It's true that Penny was adopted out rather quickly, but she was also returned just as quickly -- boom, boom, boom -- three times in a matter of as many weeks.
As it turned out, Penny not only didn't get along with other dogs, but she was also very afraid of men and this was causing her to act out in inappropriate ways. We will never know exactly what happened to Penny before coming to WSHS, but luckily for her she came to a place that was willing to put in the work and time to help her get past these issues and find the perfect home.
After developing a behavior modification plan and working with one of our training partners, we had Penny on the right path. We found an adoptive home that was willing to patiently work with her, continue her training plan, and give her the space and time she would need to adjust in a new home. Penny almost had that elusive happy ending we were hoping for, but several years later, the addition of new family members (e.g., human babies) changed the family dynamic.
Not surprisingly, kids were not a great idea for Penny and she found herself once again back at WSHS -- this time a bit overweight, forlorn, and still not too fond of men. On the plus side, Penny no longer had issues with other dogs, so we counted this as progress in the right direction. Back to the drawing board, the staff and volunteers worked to restart Penny's training program and help to alleviate her fear issues.
In the summer of 2014, Penny's luck was about to change for the better. Kathy and Neal, donors and longtime supporters of WSHS, took an interest in our sad Penny. They had lost one of their dogs and decided it was time to see if they could find another one to fit into their family. They both had gone through some serious health issues and needed a pick-me-up. After several visits (including some with their 'Speagle', Charlie) they were interested in taking Penny home.
Just then, to everyone's dismay, the animal care team discovered that Penny now had Addison's disease. Addison's causes an imbalance of electrolytes -- and left untreated, is fatal. WSHS got Penny to the vet in time, but now she would be on medication for life. One more strike against our unlucky girl.
Thankfully, Kathy and Neal decided to open their hearts and home to Penny anyway and provide her with a foster home where they could monitor her Addison's disease more closely than at the shelter. They met with our trainers and were also willing to work on her fear of men.
Penny's Happy Ending (per Kathy)
There were a few issues, naturally; but basically all Penny really needed was a routine, attention and kind discipline. After 18 months we decided we wanted her for our own and we adopted her in May of 2016. As I stepped out of the car to enter the shelter that day, I found a penny on the ground right next to my car and I took that as a good sign!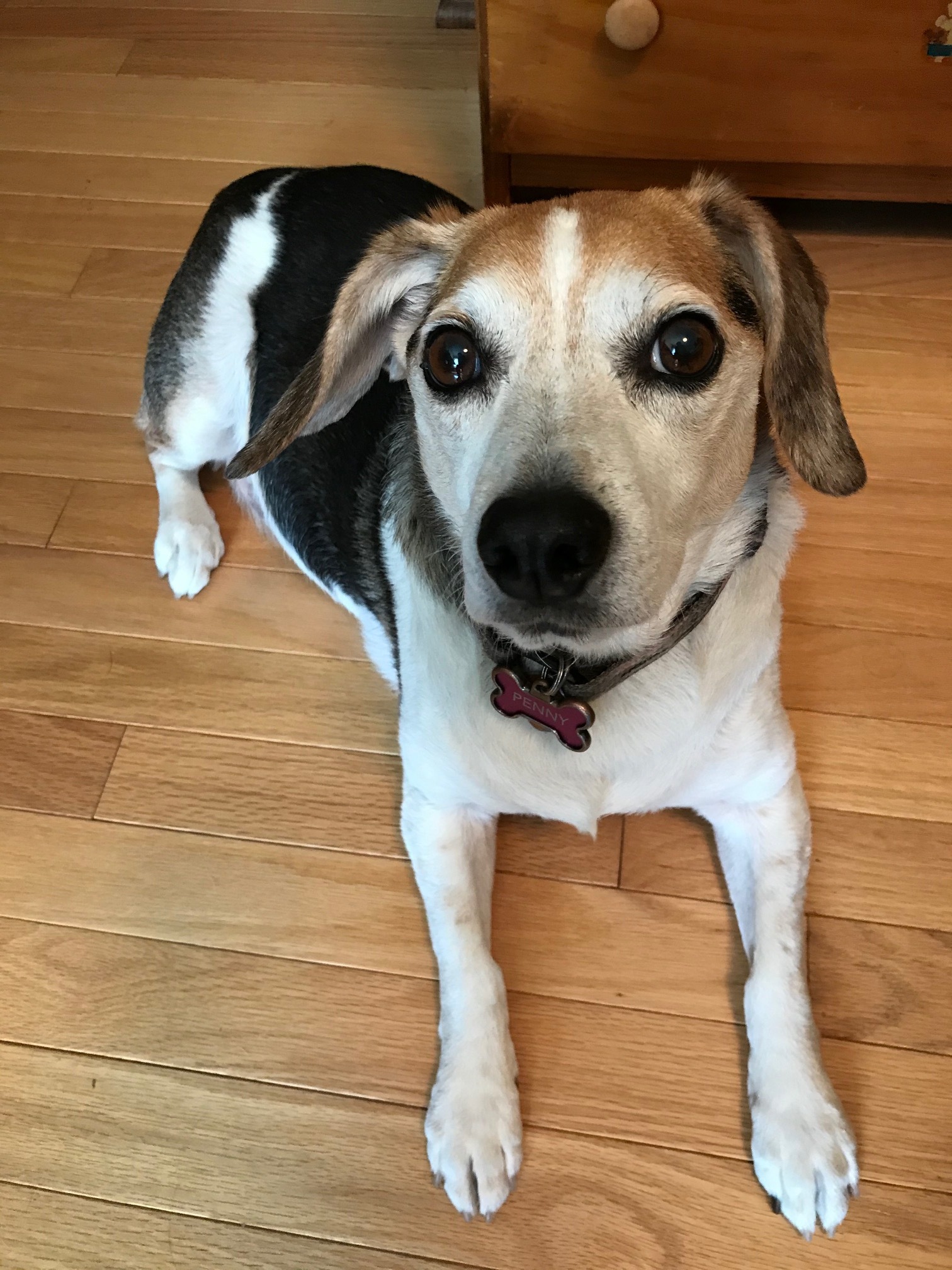 Penny and I walk every day and she's been a perfect weight since we've had her. On weekends we go for long walks at Argonne or the DesPlaines River walk, sometimes with friends and their dogs. She has a lot of fun at Barkapalooza, where she enjoys the 'obstacle course' and we'll miss that this year. Walking is probably her favorite pastime. She will fetch her own leash when I ask, 'Who wants to go walking' or 'Who wants to go for a ride in the car?'
The whole family loves her --Grandma, all the Aunts and Uncles. She's not shy around any of the guys and listens well to everyone. She has some doggie cousins and enjoys playing or walking with them.
Penny likes to sit (in one of 'her' chairs) and watch the activity outside of the front or back windows while she 'guards the house'. She's not interested much in toys, but is crazy about playing 'Go Find'. We have her sit in a spot, while I hide a treat somewhere. It's fun watching her sniff her way to the prize and she's so proud of herself when she does find it. She's very smart and knows several commands, both by voice and by sign. She can even tell time, reminding me when it's her breakfast or dinner time.
It's too bad she had a rocky start, but I'm grateful the previous owners brought her back to WSHS, where she was well cared for till she found her way into our lives. Penny wasn't always easy, but she was definitely worth it. She's our Lucky Penny.
In Summary
Some of the best relationships in life don't come easy, but they are certainly worth it. Sometimes it's just finding that right fit. Penny holds a special place in the hearts of the staff and volunteers who worked with her and helped her on her journey. We are also forever grateful to people like Kathy and Neal who were willing to take see the bright shiny treasure beneath a slightly tarnished penny that just needed the right person to come along and pick it up.