From the moment he was found, Ramos was in bad shape. Brought to WSHS by a wonderful Good Samaritan, 2 ½ month old Ramos weighed less than 2 pounds when he arrived. If it wasn't for the woman who found him, he would have surely died on the streets where he was born.
Plagued by a congenital condition called an imperforate anus, Ramos was constantly constipated and unable to defecate normally due to the underdevelopment of his anus. Our veterinary team determined that there wasn't a surgical option that would help the issue and prescribed a regime of supplements, including stool softeners, in the hopes that these measures would make Ramos more comfortable, pass stool more easily, and help him live a more normal life.
Ramos was placed into a foster home, along with a new friend; a kitten who also had a manageable birth defect. The two were the perfect match, becoming instant friends and helping each other ease the transition into the next steps of their lives. Knowing that Ramos had a new buddy and a loving foster home gave us comfort considering the uncertainty of how his health issues would play out.
It was initially thought that Ramos' congenital deformity would be an issue he would have to deal with for the rest of his life. On top of this, animals with these sorts of physical anomalies were often struck by other ailments to be diagnosed down the road. So when Ramos started to also have urinary issues, we thought the worst.
Ramos hated receiving his supplements, and after a while it became harder and harder for the foster home to administer them. Urinary issues, including peeing outside the box, can be stress related, and we hoped that at least we could pin that on having to constantly pill and medicate him. Miraculously, as Ramos grew, the defect in his anus became less pronounced until it no longer was an issue for him. With that good news Ramos could now live a life without the seemingly endless amount of medications and supplements he was being given.
However, much to everyone's dismay, the urinary issues continued and with the ominous warning from our vets that further genetic defects could someday rear their ugly heads, we began the process of trying to sort out what was causing Ramos' latest medical problem.
Just when we thought he was in the clear, and Ramos started to live a more normal life, we had to again start the arduous process of supplement trials and medical tests. In case this was a behavioral issue, we also worked with the foster home to remove any triggers that may have been causing him to urinate outside of his litter box. Nothing was working unfortunately, and to top it all off, the medical examinations revealed he was also dealing with a painful condition called stomatitis which affects the teeth and gums.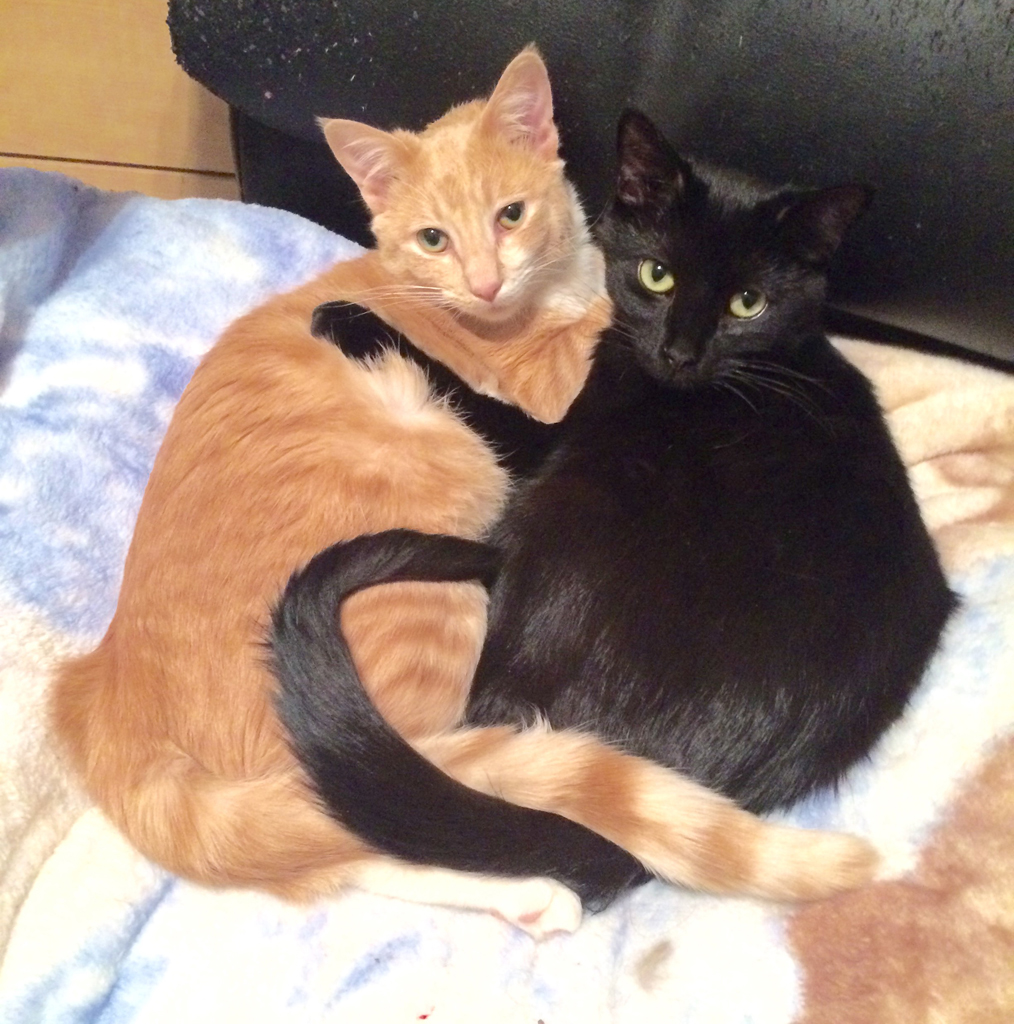 This bit of information was critical in potentially determining why Ramos was having his urinary issues. In some cases, inappropriate elimination can be attributed to another unknown, undiagnosed medical issue. Think of it as your cat trying to communicate with you in a sense. By peeing outside of the litter box, for example, your cat may be trying to draw your attention to the fact that something isn't right and they need your help. The thought at this point was that Ramos was urinating outside of the litter box box because he was in pain from the stomatitis. The complicating factor with this potential diagnosis was that stomatitis can be the cause itself, or a disease brought about by a stressed immune system trying to deal with another underlying health issue.
With no other information available, the veterinarians decided the most prudent course of action would be the removal of all Ramos' teeth; a drastic action that seemed at the time to be the only humane choice. The procedure would alleviate the pain and discomfort from the stomatitis, and by removing this stress it was thought it would also solve his litter box issues. It was a decision we didn't take lightly, and our goal was to find a way to give Ramos a comfortable, normal life. Without a change, that would never happen and Ramos would never be able to find his forever home.
A few days before the surgery was scheduled, results came back from a pre-surgery test that shed new light on his situation and the surgery to remove his teeth was postponed. Further testing indicated that Ramos was suffering from urinary crystals which can cause discomfort and blockages, the most serious being the inability to urinate completely, causing a slow and painful death.
As it happened, Ramos suffered what would have been a fatal blockage in foster care while awaiting the dental surgery. Thanks to the adept observation of our foster home, he was immediately rushed to the hospital when the issue was noticed. After much care and days of unsuccessful catheter procedures, perineal urethrostomy surgery (the removal of the narrowest part of the urethra which is most susceptible to becoming blocked by crystals and stones ) was eventually performed and proved to be the surgery that saved Ramos' life.
Ramos is back in his foster home, reunited with his foster brother and loving foster family who has now become his permanent home. His stomatitis has cleared up and he no longer is urinating outside of the litter box. He is on the mend, and finally able to live a happy, healthy life. You can't believe how grateful he seems, now able to play, eat and enjoy his life without pain or discomfort. An amazing cat with so much joy and love to give.
The story of Ramos isn't new to us. In fact, most of the dogs and cats we help have issues and illness that most humane organizations would not be in a position to do anything about. Time and time again, animals come to us from people who say that we are their last resort. That no one else has the time, money or resources to make a difference, and save the life of the cat or dog in need.
We pride ourselves in helping animals who are less fortunate, who have been turned away, who have no other hope. We extend our resources and abilities to spare no expense or leave no stone unturned in our quest to rescue, rehabilitate and rehome these wonderful, needy animals in our community. Yes, this is expensive and time-consuming, but when you see the happiness of Ramos playing or purring on your lap, you know that it has all been worth it.
We exist to continue the amazing, life-changing work we do thanks to donations of support from people like you. For the last 45 years, West Suburban Humane Society has vowed to make a difference in animal welfare, and our community at large. Your support will help us reach our goals.
As we close the book on 2017, your contribution now will ensure we can help more animals like Ramos in 2018!